STACKABLE CERTIFICATES
Your Program, Your Journey
COETAIL



Duration: 3 semesters
100% online via coetail.com
5 courses
1 blog
Blog hosting on coetail.com for the duration of your program
COETAIL facilitator
Completion certificate for 250 hours of professional development
Payment spread out over duration of courses
COETAIL & HERITAGE CEC



Duration: 3 semesters
100% online via coetail.com
5 courses
1 blog
Blog hosting on coetail.com for the duration of your program
COETAIL facilitator
Completion certificate for 250 hours of professional development
21 Continuing Education Credits
Payment spread out over duration of courses
COETAIL & TCSJ PDU



Duration: 3 semesters
100% online via coetail.com
5 courses
1 blog
Blog hosting on coetail.com for the duration of your program
COETAIL facilitator
Completion certificate for 250 hours of professional development
16 Professional Development Units from Teachers College of San Joaquin (Purchased directly through TCSJ at the end of Course 5)
Payment spread out over duration of courses
COETAIL & GET



Duration: 3 semesters
100% online via coetail.com
5 courses
1 blog
Blog hosting on coetail.com for the duration of your program
COETAIL facilitator
Completion certificate for 250 hours of professional development
Integrated Google for Education Trainer content
Option for 2nd stackable cert via Google for Education Trainer Exam (Extra cost approx. $25-$40)
Payment spread out over duration of courses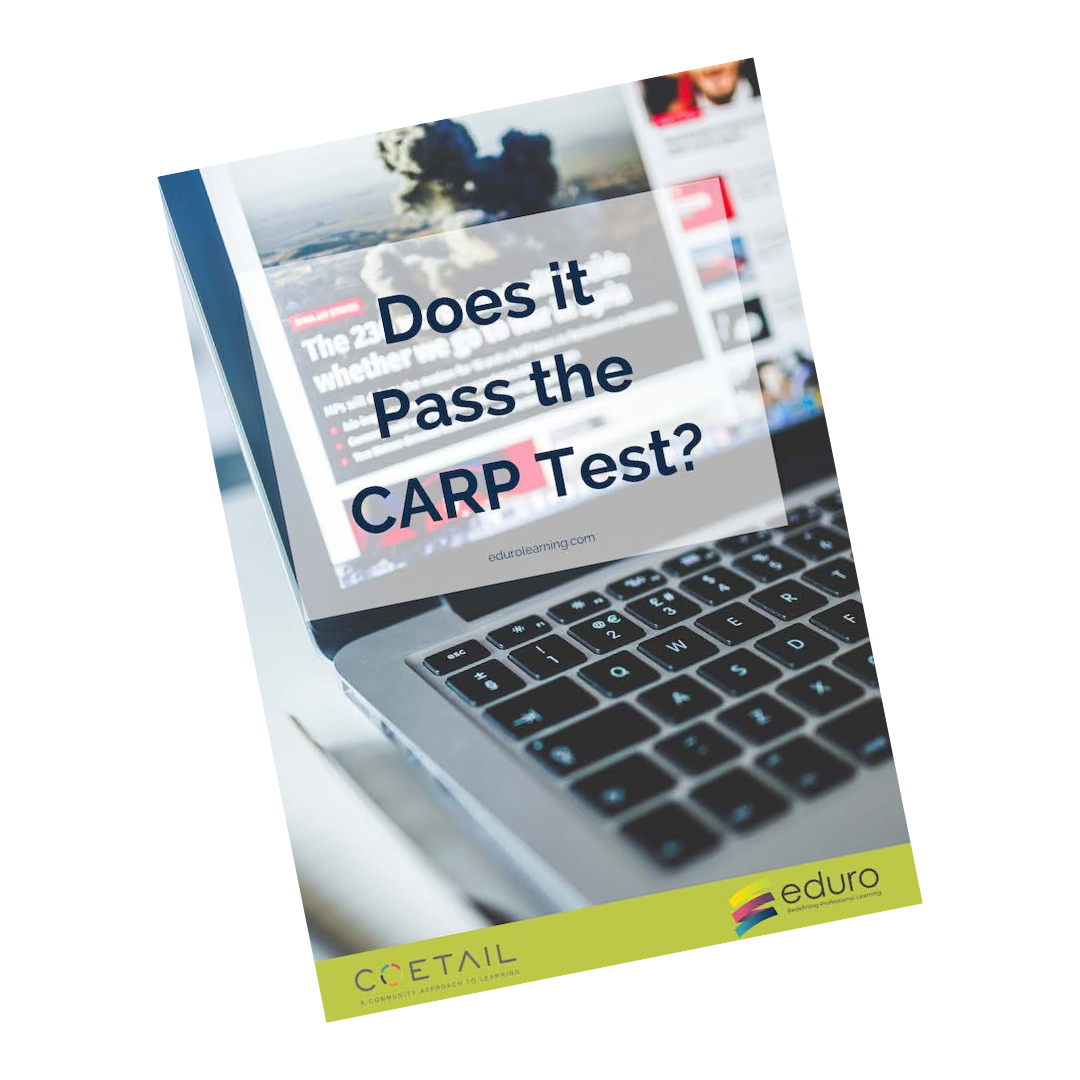 Curious about what you might learn in COETAIL program? Here's a taste!
Course 2 of the COETAIL Program is all about Literacy in Today's World. Being able to evaluate information resources is one of the vital digital literacy skills needed in today's classroom.  Teach your students the CARP test, use our CARP Infographic PLUS printables and get access to a short explanation video with support notes!
Register your interest in the COETAIL program and get one of our most popular digital downloads FREE! There's no obligation to register your interest! This will help us keep you in the loop for our next cohort – plus you'll get great updates on the learning happening in our current cohort so you can see a preview of what you'll learn!