How do COETAILers grow as Citizens?
At COETAIL, we are committed to continually evaluating our program in order to keep it relevant for our participants. After the newest ISTE Standards were released, we revamped the COETAIL curriculum to equip today's educator with the knowledge and skills to impact student learning.
"The ISTE Standards for Educators are your road map to helping students become empowered learners. These standards will deepen your practice, promote collaboration with peers, challenge you to rethink traditional approaches and prepare students to drive their own learning." (source)
We reached out to our COETAIL alumni to better understand how they grew during the COETAIL program.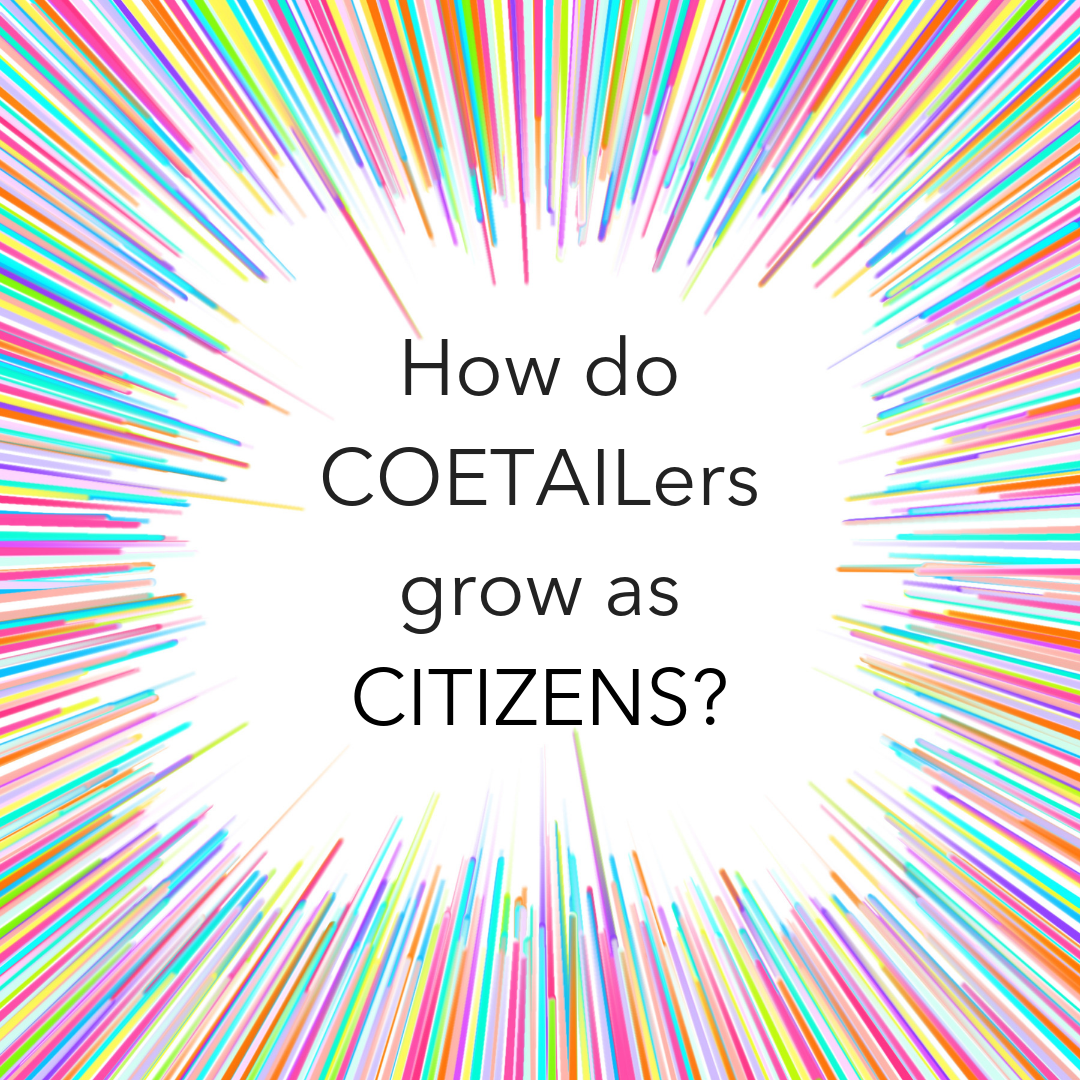 The next ISTE Standard in our series is Citizen:
ISTE Standards for Educators // Citizen
Educators inspire students to positively contribute to and responsibly participate in the digital world. Educators:
3a.
Create experiences for learners to make positive, socially responsible contributions and exhibit empathetic behavior online that build relationships and community.
3b.
Establish a learning culture that promotes curiosity and critical examination of online resources and fosters digital literacy and media fluency.
3c.
Mentor students in safe, legal and ethical practices with digital tools and the protection of intellectual rights and property.
3d.
Model and promote management of personal data and digital identity and protect student data privacy.
Eduro Learning embraces a community approach to learning. We believe that our community is essential to COETAIL's identity so we are letting their voices speak for the program. Below, COETAILers share how they grew as Citizens during their journey.
As a lower elementary and early childhood teacher, I've made sure that my littlies know that they are part of a larger community. In that community, they need to share, work together, and ask questions to learn more about each other. We've done this by making global connections through projects such as Traveling Teddy and Travelling Tales.
Before starting Course 2, digital citizenship was very overwhelming and difficult to think about teaching to my lower elementary students. All of my assignments in the course increased my knowledge exponentially in this area.
I've done a lot of work with Digital Citizenship at my school thanks to COETAIL. I've lead multiple parent workshops and developed a scope and sequence for our primary school teachers & students. One thing COETAIL has taught me regarding everyone's role in Dig Cit is that being a good digital citizen is a partnership amongst teachers, students, and parents and that it simply starts by being a good citizen.
My own knowledge and understanding of the digital world grew. I was able to learn and share different strategies to help students become responsible digital citizens and use digital resources in a proper and safe way.
During COETAIL, I created a unit on Identity for my IBDP students on Digital identity that explored the impact of our online presence on people's perception (idea from the Final Project for Course 4). This same unit has now evolved and is called Portraits of Self. We are discussing our plural identities and students are creating 'about me' pages for blogs to redefine their digital footprint.
Your turn!
What does being a Citizen mean to you? How do you demonstrate this standard? Why and how would you like to grow as a Citizen?
Let us know via Twitter or Instagram using #COETAIL (feel free to get creative!) or comment below!